Current Apparatus
The Munford Fire Department consists of 2 front line fire engines, 1 reserve fire engine, 1,105-foot platform aerial fire truck, 2 brush trucks, 1 Emergency Medical Service response vehicle, one Fire Inspector vehicle, 1 battalion response unit, 1 CERT (Community Emergency Response Team) trailer, 1 Hazardous Material Decontamination Trailer and a Chief's response unit.
Engine 81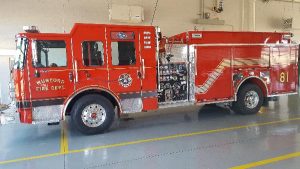 Engine 81 is a 2017 Pierce Enforcer. This engine was custom built by Pierce Manufacturing for Munford Fire Department. This engine has seating for 5 firefighters and carries 1000 gallons of water with a pump capacity of 1500 gpm. It has a 400 hp. Cummins engine with an Allison automatic transmission and Oshkosh TAK-4 independent front suspension. Cost of this engine was $555,924.00.
Engine 88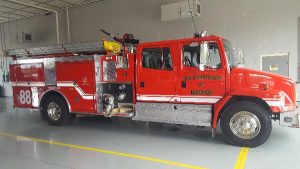 Engine 88 is a 1994 Freightliner fire engine built by Smeal Fire Apparatus in Snyder, Nebraska. This engine was purchased in 1994 by the City of Munford to help lower the ISO rating of the city. It carries 1000 gallons of water and can pump 1,250 gallons of water per minute. It carries 5 firefighters with the capability of air packs in the seats for faster service. This fire engine is the first out engine for all structural fires and large incident calls inside the city limits. This truck is usually supported by all the other fire engines. This fire engine is usually the first to leave the fire station for most fire calls inside the city limits. This truck was purchased at a price of $186,000.00.
Tower 81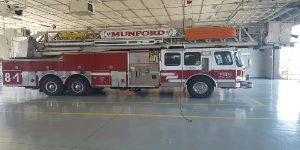 Tower 1 is a 1992 E-One Platform aerial pumper. It is equipped with a 2000 gallon per minute pump, full complement of ground ladders, a 300 gallon storage water tank, a 1000 gallon per minute master nozzle at the basket and is capable of carrying 4 firefighters. As a rescue bridge the ladder can accommodate as many as 14, moving from one point to the ground.
Engine 32 (Reserve)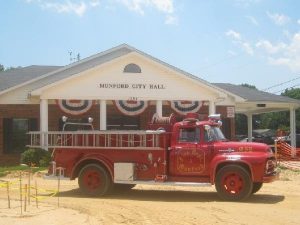 Engine 32 is the first fire engine that was purchased by the City of Munford to provide fire protection to its citizens. The engine is a 1956 Ford F600 that carries 500 gallons of water. The truck was ordered on November 10, 1956 from Central States Fire Truck Corp. at a cost of $7,199.00. and placed in service in February 1957.
Engine 32 has been taken out of service but is still capable of fighting a fire if needed. This engine had a long colorful life of service to the citizens of Munford and South Tipton County. The truck was permanently placed in reserve status in 2010 when it proudly became displayed in our museum at Headquarters for everyone to see along with other artifacts.